OmniVista Cirrus Overview
OmniVista Cirrus is a cloud-based Network Management System (NMS). This cloud-based approach eliminates the need for purchasing and maintaining a physical server and installing the NMS on premise, since everything resides in the cloud. Network Operators can access OmniVista Cirrus from anywhere, using any approved browser and device (e.g., workstation, tablet).
To get started with OmniVista Cirrus, you initially create a Freemium Account - a free account that provides an inventory of network devices and allows one firmware upgrade on devices in your network. After creating a Freemium Account, you can upgrade to a Paid Account, which provides full management for the subscribed number of devices and services for the length of the contract, based on the type of Paid Account (Basic/Business/Premium).
The sections below provide an overview of the different types of accounts. Instructions for creating a Freemium Account, and upgrading to a Paid Account are available on the OmniVista Cirrus Registration Page.
Account Overview
There are two types of OmniVista Cirrus accounts: Freemium and Paid. Each account type is described below.
Freemium
A Freemium Account is free and enables you to view your network inventory, and perform one software upgrade on those devices. In addition to an Inventory widget that provides an overview of device status, the Dashboard includes sample widgets that are available with a Paid Account. A sample Freemium Dashboard is shown below.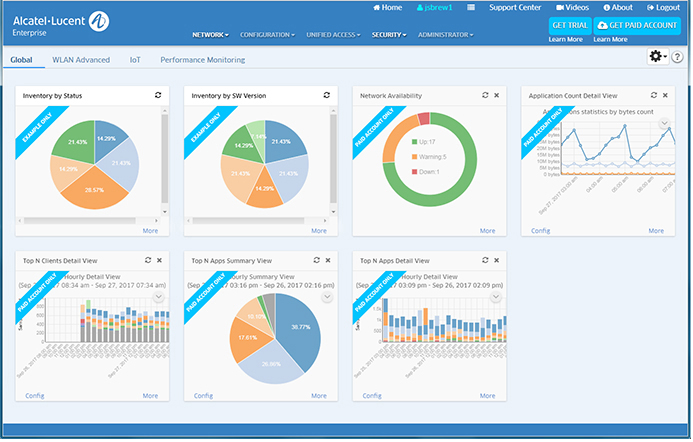 The Freemium version of OmniVista includes the following applications:
Network -

Provides an inventory of network devices and displays device information, such as firmware version and device status. The devices are eligible for one software upgrade. Devices are displayed on the Device Catalog Screen (Network - Inventory - Device Catalog).

Security -

The person who creates the Freemium Account has Network Admin privileges and can create new users.
Click here for details on creating a Freemium Account.
Paid Account
To upgrade to a Paid Account, you will need an OmniVista Cirrus Subscription. Subscriptions are ordered through an ALE Business Partner, who will guide you through the process. Once the Subscription is activated, you will receive services and support as described in the "OmniVista Cirrus Paid Bundles Service Description" for the duration of the Subscription. There are three types of Paid Accounts (Base/Business/Premium). You can add devices to your subscription as your network grows. A sample Paid Account Dashboard is shown below.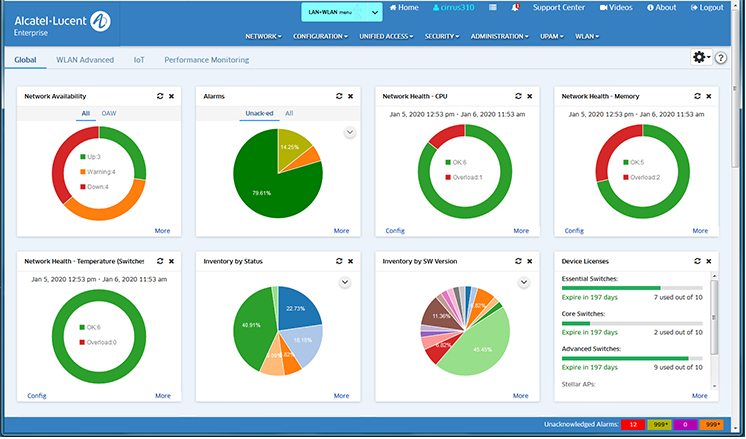 Click here for details on upgrading to a Paid Account.